Lingvo Dictionary 2019 instantly turns your desktop or laptop PC into a powerful translating and language-learning powerhouse. The unsurpassed combination of the world?s most extensive vocabularies, superior processing capabilities and unique features that include voice capabilities and integration with the most popular MS Office applications make Lingvo Dictionary for Windows absolutely unbeatable when it comes to translating the world around you.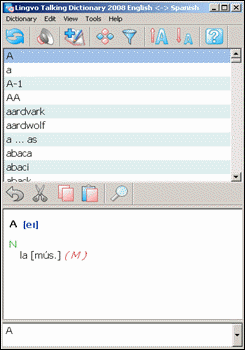 Lingvo Talking Dictionary for Windows is part of Lingvo Suite ? a complete and fully integrated language solution for your PC, which also includes the FlashCards language learning application and a Talking PhraseBook.



Lingvo Dictionary key features:
TTS speech capabilities


Up to 400,000 entries (words/phrases)


Bidirectional vocabulary database with integrated Explanatory English Dictionary


Intelligent Spell-Check function


Advanced Synonym Search


Translations are complete with part of speech, gender, comment, transcription, and usage examples


Includes transcriptions for all English entries


Complete English Grammar resources


History function


Adjustable font style and size


Full integration with all Lingvo Suite components


Windows Vista support


Select the language pair you would like:


You can also use our Search Wizard to find what you are looking for.