The most essential language management tools to help you succeed in business, when studying or while traveling.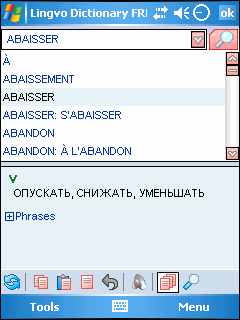 Lingvo Talking Dictionary for Windows Mobile Pocket PC is part of Lingvo Suite - a complete and fully-integrated language solution for Pocket PC which also includes the FlashCards learning application and a Talking PhraseBook.

Lingvo Dictionary provides the following:
TTS speech capabilities


Up to 400,000 entries (words/phrases)


Bidirectional vocabulary database with integrated Explanatory English Dictionary


Intelligent Spell-Check function


Advanced Synonym Search


Translations complete with part of speech, gender, comment, transcription, and usage examples


Includes transcriptions for all English entries


Complete English Grammar resources


Full integration with Lingvo Suite components


Vertical or horizontal use of window and tool panels


Untranslatable or unrecognized words are highlighted


Compatible with Windows Mobile Version 5.0 platform or higher


Installation and execution from Extension Card


Find your Lingvo Dictionary 2019 for Pocket PC here:
You can also use our advanced Search Wizard to find what you are looking for.